Entrance Panels for Intercom Systems
Security Camera NY - the best solution for your residential or commercial security needs.
Get a Free Quote for Intercom Installation Today!
Entrance panels upgrade your intercom system with many benefits. Our entrance panel provides quality of audio and video to monitor your entrances wherever you are. We have a versatile range of entrance panels for offices, houses, residential complexes, and other buildings. The entrance panels not only keep your place safe but add a touch of sophistication. Get in touch with us and avail the benefits of entrance panels for your intercom system.
Benefits of Entrance Panels for Intercom Systems
Entrance panels, with all its features, provide tough security to your entrances. The door entry of your residence or workplace is not permissible to unauthorized persons. Following are the features we provide with our entrance panels and intercom systems.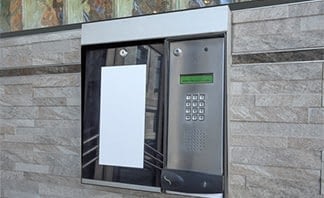 With our intercom systems, you have access control and protection for your residence or workplace. We offer a variety of access control options according to your need and budget. The entrance panel works on access control devices with codes, key fobs or cards and fingerprints.
The basic and user-friendly system for your entrance panel works with a key fob/ Proximity card reader. Your key fob or proximity card is an electronic key to pass through the entrance panel. You swipe or insert your card and gain access.
Our access control system offers a Keypad control system. Keypad locks recognize the correct code and grants access. The Keypad lock is electronic and linked with the keypad to recognize the specific code.
Advanced Biometric Access Control
If you are looking for more advanced security systems, have a look at our Biometric access control system. It recognizes your fingerprints and scans your iris.
Entrance panels with biometric system include a sensor that recognizes your fingerprints and the proportions of your hand.
Iris scanning takes a picture with a digital camera in your entrance panel. The system matches the newly clicked picture with the original picture to recognize and grant access.