Get a Free Quote for Residential Security System Installation Today!

Jericho is another underrated city in North Shore of Long Island in Nassau County. The 15-year-old Jericho town has a sparse suburban environment with housing and real estate properties cheaper than the most neighboring towns. Jericho has a large stock of good housing, well-reputed schools, and flourishing local markets. What makes living in Jericho more convenient is the fact that it is within easy reach to Manhattan and other communities in Long Island.
Stay safe and secure in Jericho with NYC's top-notch security systems. Contact us to install our security cameras, intercom, and alarm system to maximize your protection.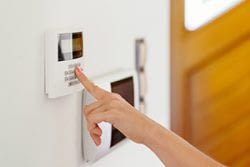 Security Camera Installation Services
Installing a security camera in today's time is very important. With the help of a security camera, you can effectively monitor your premises. Security camera not only keeps your home and other properties safe but can also help you capture anyone who tries to enter your property with the intention of theft or vandal.
Why Get Our Security Camera Services?
Unlike old CCTV cameras, the security cameras we provide are equipped with Internet Protocol technology.Our security camera features high-quality lens and high-resolution power to give you an ultimate security surveillance experience.
Our security cameras can get integrated with your smartphone through an app. This means you can view your home or property wherever you just by your phone. All you need is the app and an internet connection. Our smartphone integrated featuire helps you ensure that your loved ones, business staff or tenants are safe.
Exclusive Range of Security Cameras
We offer a full range of wireless, IP cameras, hidden, and night vision cameras to help you maximize the protection of your property. Check our complete range of security cameras and choose what suits you best.
Digital IP camera
Outdoor camera
Nanny (hidden) camera
Night vision camera
PTZ camera
Vandal-proof camera
Infrared camera
Intercom Installation Services
Installing an intercom provides a combined benefit of security and convenience. Intercom is the most important feature of your security system that also lets you control the access of anyone into your property. With our audio and video intercom view and speak to your guest, visitor or delivery guy before granting access.
With our smartphone integration technology, you can receive your door even if you are not present in the house or building.
Alarm System Installation
Our top-notch alarm system not only rings in your house but also sends alert to your phone. This feature helps you keep your home or office secure especially in your absence. We custom our alarm systems to fit in features that are necessary for your security solution while keeping care of your budget. Have an older alarm system that needs an upgrade? We will upgrade your alarm system with our advanced features to provide your place a fool-prof and highly securing alarm system. Check out our range of alarm systems.