Virtual Doorman System for Building Security
Security Camera NY - the best solution for your residential or commercial security needs.
Get a Free Quote for Intercom Installation Today!
What is a Virtual Doorman System?
If you are a building owner who has to pay for your doorman and security services, you might want to upgrade your building's security. Take your building's security to the next level. You would require fewer staff and incur little cost to keep your building safe and sound.
Virtual doorman systems have been used for nearly a decade in NYC buildings. The virtual building security system is getting more advanced with time and is providing you better services. The virtual security system is simple. It requires video cameras and an internet connection (Wi-Fi). The system takes pictures and sends them to an operational team. The operational team is highly trained and skilled. The operators monitor your building 24/7, managing the virtual doorman security system. A virtual doorman system can cut down your cost of employing a doorman by 20%.
The operators also receive packages for the residents. The packages are stored in a small room. The residents are given an alert or notified, and they collect their package instead of going to the mailbox.
Get the virtual doorman security system from us before your competitors to increase your value market and to upgrade your security system.
How Does the Virtual Doorman System Work?
A virtual doorman system integrates access and provides surveillance to residents, deliveries, and visitors. Meanwhile, access and entry points are well monitored by the operators. The operators use an internet connection, CVCTV cameras, an intercom, and access control to monitor your premises. The operators are required to have some control over your property and they control the access.
The intercom unit enables conversation between the visitor and the operator. The door network in the buildings is also under the surveillance of the operators. Whenever someone has to enter the building, they press a call button. Within seconds the visitor or the delivery person is connected to a virtual doorman. The virtual doorman greets and assists the visitor as per the requirement.
How Do The Packages, Deliveries, And Guests Enter?
When the call button is pressed, the operator accesses a live video stream of the building to view the visitor. The operators then verify the visitor and grant them permission to enter. If the visitor brings a package or delivery, then they are directed to the package-storage room.
The residents are then notified by the operator to collect their package or delivery. The package room is constantly monitored with cameras to ensure the safety of the package until it is collected. The access is always monitored. The operator wouldn't allow any unauthorized visitors and may take action if necessary.
A virtual doorman system has its eyes and ears on your building to provide top quality security. We provide a team of operators that is dedicated to your building only and monitors your building 24/7. As the owner of your building, the burden of security is taken off from your shoulders with minimal cost. The virtual doorman security system provides many advantages that further add to the safety and comfort of your residents.
Benefits of Virtual Doorman Systems
Plenty of steps are there for you to take for making your house secure, but none are as efficient and effective as installing an Audio intercom system for home. It provides great value for money, has great technological value and some models are even integratable with devices like phones, laptops, and tablets.

The virtual doorman security system has power backup systems. This means that your building's virtual security will perform at its best even when there's a power failure.

You don't need to worry about keeping your keys safely. All you need is a pass card whenever you go leave and go to your house.

Your building can be immediately locked down in case of any emergencies.

Your packages are delivered in a timely manner. If the resident is not present to receive their parcel, the parcel is returned and takes more time to reach its customer again. A virtual doorman system keeps your parcel safely in the package room for days until you receive it.

The security check is more advanced, yet less strict on the visitors.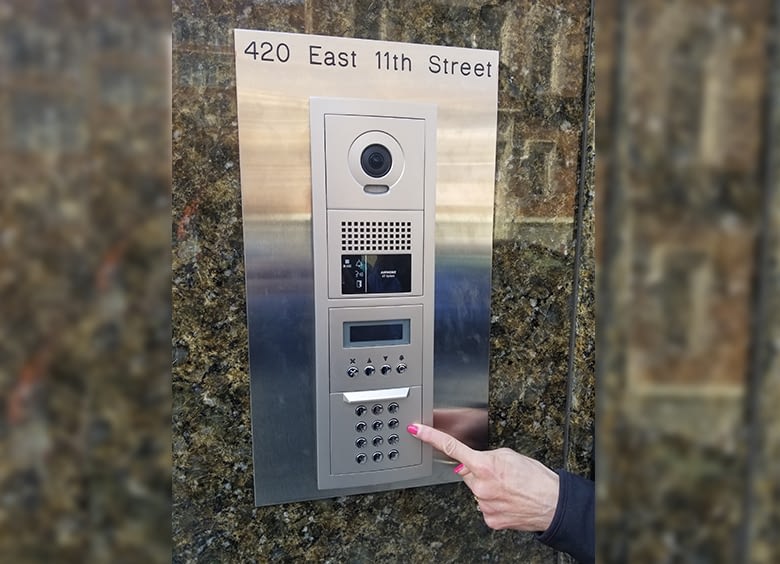 Invest In a Virtual Doorman System
A virtual doorman system is a game-changing security system for your building. It uses an advanced security camera system with intercom and access control to keep your building safe and secure at all times. It costs you about a fraction of regular doorman services. It makes receiving your packages and delivery easy. The powerful backup does not let the virtual doorman system shut down during power failure.