Business Alarm System Installation
Security Camera NY - the best solution for your residential or commercial security needs.
Get a Free Quote for Alarm Installation Today!
Features Found in Typical Business Alarm Systems
Most small business owners already have a lot that they have to worry about when it comes to running their business. They often worry about the day to day operations of the company, helping customers and clients, and similar tasks. However, it is very important that they do not forget one of the most important elements of any business – the security. Without proper security in place, it could mean trouble. We can provide business alarm system installation to make sure your company has the security it needs.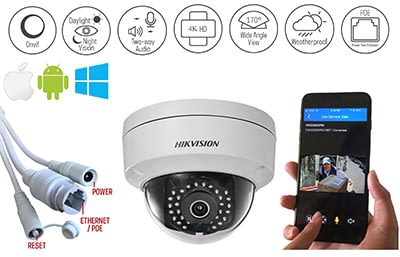 It is important to keep in mind that all businesses will have varying needs, and that no two companies will have identical needs. Two companies, even if they might be in the same field, will have different needs based on things like their location and the building. It is important to choose a system that has the elements essential to your specific needs.
Door alarms are very common for businesses of all types, and most of the time, there will be several of these types of alarms on a property. They will be at all of the entrances and exits of the building. In some cases, there might even be some internal alarms in certain areas. The system might include alarms for windows, breaking glass, and for motion detection, as well.Systems, which could be wired or wireless, will attempt to provide coverage for the entire building with the various types of alarms that are offered. The wireless systems are more flexible in this regard, as they have freedom of placement that the wired systems simply don't have. This could allow you to have coverage of certain areas that were not visible before.
Whenever the alarm is triggered, regardless of whether it is a door alarm or an alarm for glass that has been smashed, the monitoring company will be alerted. Depending on the type of system, owners or managers who are taking care of the security might get an alert, as well. The authorities can then be dispatched to check out the problem, helping to keep you, your employees, and your property safe.
Adding Other Features to the Business Alarm System
The features do not need to be merely relegated to alarms for intruders at the business. There are other types of features that could be added to the system. One of the most useful of these will be a camera system. As with the alarms, it is possible to have a wired or a wireless camera system. Again, wireless will provide the extra freedom that you might need when the system is installed.
The cameras can be active around the clock, and they can record and send the information back to a recording device, where it can be stored. It is often possible to watch a live feed of the system, as well. This can provide some extra security, and it will help to ensure that there is video evidence of anything that happens at the business. Having cameras that are inside of the business, as well as those that are watching the exterior of the business can be a good idea.
Smoke alarms are a necessity for businesses, as well, and even if you already have a system in place, it might be time for an upgrade.
Many of the systems today can allow the customers to connect to them through their smartphones and tablets, which is a nice feature. It allows the users to set and disarm the alarms, and even to watch the cameras if they are hooked up to the network. This is a level of control that was simply not possible in the past.
Now that you have found more information regarding these types of alarms, and the types of features that you can generally find with them, the next step is getting the business alarm system installation. This way, you can have a system up and running keeping your property, your employees, and you safer.